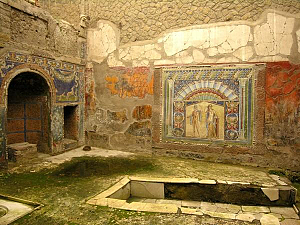 Spread over an area of 448.000 square meters, Pompeii has seen the light again in the XVIII century thanks to the initiative of Charles III of Bourbon, King of Sicily at the time. The archaeological site, UNESCO heritage since 1997, is a labyrinth of streets that lead straight into the heart of the ancient civilization and that reveal its lifestyle, tastes, the reference points. To get to know the town, the only compass available is the thirst for knowledge.
Those who haven't enough time to visit it all, they can choose a route that requires a half day consisting of the most significant private and public Domus. They can then come back to Pompeii to fully live an unforgettable experience.
There are three possible accesses to the excavations:
Porta Marina (via Villa dei Misteri)
Piazza Esedra (piazza Porta Marina lnferiore)
Piazza Anfiteatro (piazza Immacolata)
From each of these, it begins a path that includes buildings, temples, sanctuaries, baths and theaters.
In the suggested itineraries, are highlighted the main works, meaning those to which the modern historiography connects a meaning or a particular moment in the life of this ancient people.