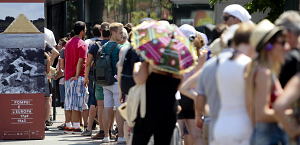 Walk along the main roads, enter into the ancient houses imagining what kind of life might flow within the walls, at the foot of the Vesuvius. The journey through the nine regions (or districts) identified by the archaeologist Giuseppe Fiorelli reveals not only the uses and habits of the Pompeians but also the magic that surrounds this ancient and eternal city.
With the online ticket, the access to the wonderful Pompeii becomes even faster. The reservation allows you to choose your favorite type of visit – accompanied, guided, in different languages – avoiding long queues at the counter. Just print the voucher received from this website and show it at the Porta Marina counter to obtain the real ticket.
Thanks to the online purchase of the ticket you can schedule the tour well in advance and visit the archaeological site and the surrounding areas with all calm.